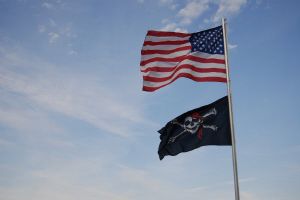 Captain Hook's Marina is a a small, family oriented marina located at 597 Cliff Road in the Sewaren section of Woodbridge Township New Jersey. We are just one mile north of the Outerbridge Crossing (Route # 440 and 287), in Smith's Creek.
Our marina is very well sheltered from storms, wind and marine traffic. The Raritan Bay and Sandy Hook area, which offers some of the best Striped Bass fishing on the east coast is just 2 miles away. Some of the biggest fluke are caught in that area. Fuel, ice and fishing supplies are available in Smith's Creek.
We offer an indoor recreation area with big screen TVs and refreshments for when you want to kick back and relax after a hard day of fishing or cruising. There are frequent get-togethers with boat owners and friends just barbequing, playing games telling fish stories or just watching a movie. Our Mens and Ladies rest room facilities are spotless.